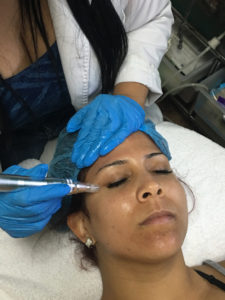 The PRP Facial, a.k.a. the Vampire Facial, became widely known when Kim Kardshian posted the dramatic pictures of her procedure back in March, 2013. That is almost four years ago! Since then, the PRP Facial has become a popular service at the spa. This is not just thanks to Kim.  The PRP Facial delivers outstanding results for all skin tones and types.*
For those not familiar with the PRP Facial, it is micro needling with platelet-rich-plasma (PRP) infused into the skin during the procedure. In a PRP facial, the plasma taken from your own blood and infused into the deeper layers of the dermis during a micro needling session. Micro needling creates thousands of micro wounds on the surface of the skin. These micro-wounds cause the body to go into a healing process. Micro needling by itself generates beautiful results. Enhancing it with PRP just increases the benefits.
The PRP Facial has gone from being an exotic facial to one that can be scheduled at many spas. This is a testament to the effectiveness of the facial and micro needling in general. It is truly an effective next generation facial.
Wound Care Origins
For over 20years, PRP has been used in clinical applications for the healing of wounds. When used for healing wounds in a medical setting, PRP enhances the healing process and inhibits infections. When PRP is used in a micro needling session, it enhances the healing process in much the same way. The same properties that help wound healing are also beneficial when trying to heal acne, reduce stretch marks or restore your youthful glow. This is really an ingenious way of taking a medical application and turning it into a cosmetic application. The Wound Research article below goes into greater detail on the properties that make PRP an effective treatment on wounds.
Articles On PRP Facial
Here are some articles from around the web for you to read if you are interested. There are also, lots of You Tube videos on the Vampire Facial for you to check out. If you are thinking about getting a PRP Facial, but still not convinced, these articles should help alleviate your concerns.
You May Also Be Interested In
Research
*Results may vary from person to person. Results are not guaranteed.
DISCLAIMER: The content on this website is for informational purposes only. Read full disclaimer here.
PRP (Vampire) Facial More Than Just Hype