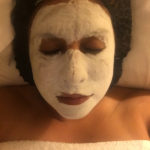 This new skin care treatment from Image infuses infuses oxygen, plant-derived stem cells, peptides and a high concentration of enzymatic botanicals into the skin. It includes a gel to milk cleanser, enzymatic facial peel, oxygenating facial masque, stem cell facial enhancer, and prevention in the form of a daily tinted moisturizer (SPF 30). *The O2 lift leaves your skin luminous, refreshed and rejuvenated.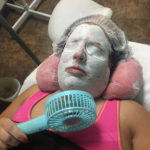 Getting a O2 Facial is a five step process.
It begins with Gel to Milk cleanser to remove dirt, oil and impurities from the face. This is a mild and soothing cleanse.
After the cleans comes the lift. The lift is a a papaya and pineapple enzyme peel. The solution is gently massaged into the face for a gentle exfoliation.
Then the oxygenating masque if applied and left to settle into the skin. This is the O2 infusion. After a short time is starts to bubble and fiz.
Rejuvenating stem cell enhancer is applied after the oxygenating masque.
Finally, a protective moisturizer is applied to protect the skin from the elements.
*Results may vary from person to person. Results are not guaranteed.
DISCLAIMER: The content on this website is for informational purposes only. Read full disclaimer here.