Take Your Skin Care Treatments To The Next Level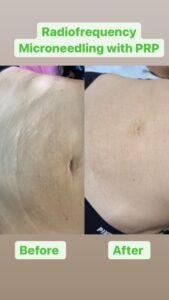 With microneedling, micro-punctures stimulate the production of collagen, the protein that helps us maintain the plump, fresh, youthful look of our skin. When getting an RF Skin Tightening treatment, the heat energy of the radio frequency tightens up the skin. RF Microneedling is a popular new treatment that combines these two treatments into one.
This great combo works together to create powerful anti-aging results like reduced fine lines and wrinkles, as well as helping significantly with acne scarring, large pores and hyperpigmentation. Those are the two most popular reasons for choosing this treatment. However, all the benefits of microneedling and RF skin tightening are combined into this one great service.
I feel great. I didn't need the compress. It felt like sunburn right afterwards, but not too bad. I can already see the texture changing and tightening.
Aura K
Stimulate Collagen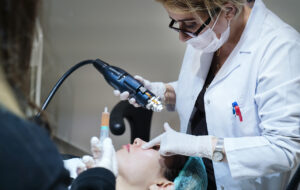 The primary benefit to this service is the way it stimulates collagen production. Collagen is the substance that literally holds the body together. It is found in the bones, tendons, skin and connective tissue. It is important in many ways to our normal functioning, but it is especially important cosmetically.
Collagen is the substance in the skin that helps maintain our youthful appearance and healthy skin. Collagen production begins to diminish after we reach the age of 25. From then on, we begin to see the effects of diminished collagen production, such as fine lines and wrinkles. RF Microneedling is an outstanding way to stimulate collagen development by tiny needle pricks.
Combining With Radio Frequency
When RF skin tightening is a part of the procedure, a host of skin issues are addressed. Your skin is tighter, fewer lines and wrinkles, brow spots and patchy red blotches are eliminated or reduced. You can start using less makeup and getting more compliments!
Smart Skincare Innovation
This technological innovation is a great improvement on two outstanding skin care technologies. Short recovery time.
Two or three treatments are recommended. Recovery time is short. Give this new service a try at Bellissimo You. You will be amazed at the results you will get.
Price: $675 One Session
$1750 Three Sessions