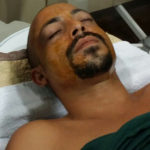 Get into the spirit of Autumn with our  seasonal pumpkin facial.  Pumpkins have zinc, antioxidants, beta-carotene, and other nutrients that protect your face from wrinkles and age spots. Pumpkin facials are popular because of the many natural rejuvenate qualities. Our Pumpkin masque facial is made from Organic contents. It's powerful properties gently exfoliate and deeply cleanse your face. *Our pumpkin masque facial can leave you feeling vibrant and rejuvenated.
Price: $90.00
A facial is a fundamental beauty and skin care treatment that has many benefits.
Pumpkin Masque Facial can be used to:
Get a gentle exfoliation
Increase blood circulation
Improve skin tone and color
*As a fisherman who never wears spf, my face in some areas is dry and dull looking with a few sun spots and black heads. I decided to have a Pumpkin Facial with Ivette and not only did my face look and feel better,  it was also a super  relaxing experience.  Ivette not only educates you on your skin, but then afterwards I felt so relaxed that I fell asleep.  I would recommend "Bellissimo You" to everyone. (*Results may vary from person to person.)
Julio Cotto
Pumpkin Masque Facial Near Me
If you are looking for a pumpkin masque facial nearby, stop by our Tampa spa. We are centrally located in Tampa and a short drive from many Tampa neighborhoods. Are you in Carrollwood, Egypt Lake-Leto, or Town 'n' Country, even Westchase, University, or North Tampa? Then you are just a few moments away. If you are looking for pumpkin facial near me, call us and we'll do our best to get you in right away.
*Results may vary from person to person.  Results are not guaranteed.
DISCLAIMER: The content on this website is for informational purposes only. Read full disclaimer here.
Summary
Brand Name
Product Name
Seasonal Pumpkin Masque Facial