When You Want To Look Your Best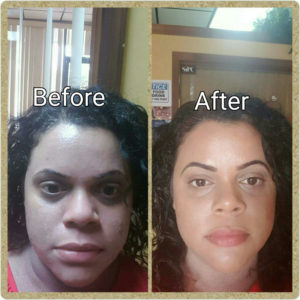 Get the look you want. Getting your makeup done by a professional makeup artist is a great way to look amazing for a wedding, date, or special event.
A professional makeup artist can help you look polished and perfect.
Important occasions like weddings can leave us feeling overwhelmed. No reason to do everything yourself. After all the work and planning, you need to relax a little before the big occasion. Don't fuss and stress in front of the mirror, get a pro to do your makeup.
When To Get Professionally Made Up
   Wedding
   Anniversary
   Date Night
   Maternity Photos
   Christmas Photos
   Special Date
   Your Birthday
   Prom
   School Reunions
   Débutante Ball
   Charity Events
Our makeup artist can help you look your absolute best. Also, we can give you helpful tips on the makeup you use every day. So that you can look great every day.
If you have not had yourself made-up professionally, come in and give it a try.
Call For Pricing
DISCLAIMER: The content on this website is for informational purposes only. Read full disclaimer here.