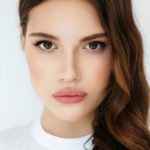 The Vampire Facial is a sassy name for the Platelet-Rich Plasma (PRP) Facial. It uses your own blood rich plasma to rebuild your dermis and stimulate the build up collagen.  *The Vampire Facial can have the same benefits you would normally get with microneedling with the added benefits associated with PRP. PRP is known for its beneficial effect on tissue repair and wound healing (See Platelet Rich Plasma: a short overview of certain bioactive components).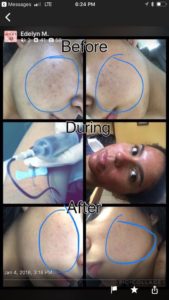 The Vampire Facial can be used to:
Remove Fine Lines
Improve Skin Tone
Shrink Pore Size
Reduce Acne Scars
How It Works
A small amount of blood (1 to 2 oz) is taken from the client and the plasma is separated out. The separated plasma is then injected back into parts of the face using micro needles. The Vampire Facial is really just a form of microneedling using your own purified blood.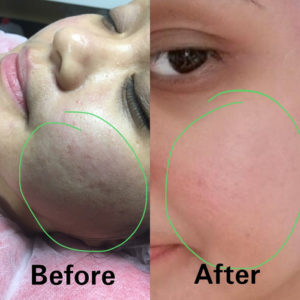 Your plasma is used like a topical serum in much the same way we use hyaluronic acid in our microneedling service. Your plasma has growth factors and beneficial proteins. When it is injected into the facial skin it helps you remove fine lines and improve skin texture.
You may see some pinpoint bleeding during the procedure, but this is normal. No numbing is required for the procedure and you can do it multiple times. Healing time is usually a couple of days. You may have a little redness and slightly puffy skin. However, there is no need to change your normal schedule. Use sunblock and a moisturizer after treatment. After a week or so you will notice that your skin is more vibrant and beautiful.  The full effect takes about a month.
Cost: One at $499 or Set of Three for $1,300
Vampire Facial Removes Fine Lines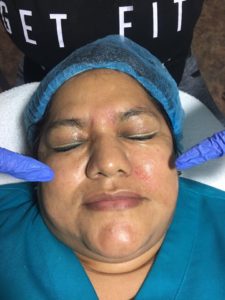 For demonstration purposes, we performed a Vampire Facial on the right side of this woman's face and photographed the result before completing the facial. You can see that the lines around her mouth are no longer there. Also, the line that extends down from the nose (laugh line) has also gone away.
If you click on the image, you can view a larger version and even better detail.
Vampire Facial Near Me
If you are looking for a Vampire Facial nearby, stop by our Tampa spa. We are centrally located in Tampa and a short drive from many Tampa neighborhoods. Are you in Carrollwood, Egypt Lake-Leto, or Town 'n' Country, even Westchase, University, or North Tampa? Then you are just a few moments away. If you are looking for Vampire Facial near me, call us and we'll do our best to get you in right away.
*Results may vary from person to person.  Results are not guaranteed.
DISCLAIMER: The content on this website is for informational purposes only. Read full disclaimer here.
Summary
Author Rating





Brand Name
Product Name
Price
Product Availability