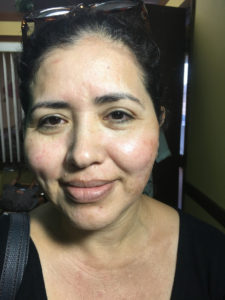 Dermaplaning is an up-and-coming service at Bellissimo You. We have been offering it since the beginning of the year and now it is one of our more popular services. What is dermaplaning? It is the process of physically removing the top layer of skin from your face. It is essentially an exfoliation without using chemicals.
Many people with sensitive skin use it as an alternative to facial peels. As a method for exfoliating the skin, it has the same benefits you would get with other types of exfoliation: reduce hyperpigmentation, improve skin texture, and stimulate collagen production.* Collagen production is a key element in maintaining a youthful, healthy skin.
Is Dermaplaning For Me?
Who should use dermaplaning? It is best for people who are noticing some change in their skin texture or some unwanted hair growth. This could be the natural consequence of aging, being out in the sun too much, dehydration or some other reason. It is also excellent if you have sensitive skin or don't like the idea of a chemical peel. If you don't fit into these categories, don't let that stop you from trying. Anyone can benefit from a dermaplaning session.
A Good Skin Care Program
As with all skin care services, dermaplaning is most effective when used as a part of a skin care program. One thing we recommend, whether you are 18 or 58, is that you have a skin care program. A good skin care program will keep you looking your best all through your life. That does not mean the program is set in stone. You can mix things in or take them out. The only part that should not change is frequency. Do what you do on a regular basis. Never stop taking care of your skin.
Add Dermaplaning To Your Program
Dermaplaning is something you should consider mixing into your skin care program. There are some great ways to do just that.
Rotate a dermaplaning with a facial every other month.
Rotate dermaplaning with a chemical peel every other month.
Swap out summer peels for dermaplaning
If you don't come to the spa on a monthly basis, just mix in a dermaplaning session when you do come in. It is really just another way to do an exfoliation. Exfoliation is an important skin care process. It helps many skin problems and improves your complexion.
You May Also Be Interested In
*Results may vary from person to person. Results are not guaranteed.
DISCLAIMER: The content on this website is for informational purposes only. Read full disclaimer here.
Create A Skin Care Program With Dermaplaning