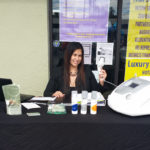 It is no secret to us that ultrasonic cavitation and radiofrequency skin tightening work wonders. But not everyone knows about it. So, we try to get the word out when we can about these two great technologies, along with our other great skin care services.
Last weekend we had a table out in front of Quick Tax and Credit Solutions during their free tax evaluation event. This event is hosted each year at their location on 4025 West Waters Ave. Suite #113, Tampa. FL. It is a great opportunity for people who struggle with their tax return to get a free evaluation and have some fun.
This was not some drab, line up at the door type of event. There was plenty of fun for everyone. Free food, a bounce house for the kids, a DJ for music lovers, and a great atmosphere.
The event was a great success. Lot's of people showed up and had a good time while getting some help with their taxes. They also learned a bit about skin care.
A shout out to Liza Pereyra (owner of Quick Tax and Credit Solutions) and Elizabeth Ortega (owner of A+ Wellness and Massage) for letting me come and show off our products and services. I look forward to being there again next year.
*Results may vary from person to person. Results are not guaranteed.
DISCLAIMER: The content on this website is for informational purposes only. Read full disclaimer here.
Getting The Word Out At Free Tax Event