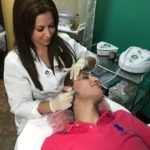 Have you wondered what are the most popular treatments at the spa? What services do people get most often, and what do they like the most? Well, if you have, this post is for you.
If you come to the spa on a regular basis, then you most likely have a plan specifically designed for you. However, if you just go occasionally, then you probably want to try a popular service, just like you would want to try a popular dish at a restaurant.
Below is a list of the three most popular services at Bellissimo You. If you see something on this list you would like to try, give us a call and book an appointment.
IMAGE Perfection Lift
The Perfection Lift is our premier chemical peel and tops the list. It is the top-of-the-line peel from Image. This is by far our most popular service. The Perfection Lift is strong peel and it can be outstanding for a variety of skin conditions and facial rejuvenation. Learn more about the IMAGE Perfection Lift.
Microneedling
An outstanding new treatment for facial rejuvenation. Microneedling is an old technique made new by technology. Fine needles puncture the skin and induce a healing effect that enhances collagen and elastin production. Learn more about microneedling.
Micropeel
Combination of microdermabrasion and a chemical peel. Another popular service at Bellissimo You. Combination treatments are becoming more popular and a micro peel combines two tried-and-true day spa treatments for even better results. Learn more about micro peels.
DISCLAIMER: The content on this website is for informational purposes only. Read full disclaimer here.