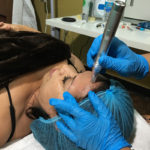 This year we introduced micro needling to our services. It has become one of our most sought after services. Micro needling is a powerful facial rejuvenator that solves a lot of common skin complaints.* In this quick post, we just want to share with you some of our client's comments. If you want to see our reviews, Google 'Bellissimo You Tampa' and read the full reviews on micro needling and our other services.
Micro needling has transformed the texture of my skin, pores reduced, fine lines disappearing around my eyes and sunspots are shrinking.* Can't get enough. Sign me up for some more!
Nannette

They offer great PRP and micro needling services in the Tampa area.
Kenny

Ivette told me about the Microneedling and how she recommended it for my particular skin issues, I decided to have it done. I was absolutely blown away by the results in just one session,*  A pit mark I had was dramatically smoother and unnoticeable,  a recent spot of hyperpigmentation due to a evil breakout was wiped away along with various other spots like it. My skin texture was smoothed and rejuvenated.
Tony
*Results may vary from person to person. Results are not guaranteed.
DISCLAIMER: The content on this website is for informational purposes only. Read full disclaimer here.