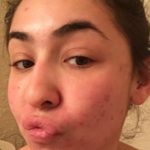 Micro needling is an exciting new skin care service that has a number of applications. Micro needling can help you keep your youthful looks, reduce fine lines and wrinkles, and reduce acne.* In this post, we want to show you some photos of a micro needling procedure that was performed specifically to treat acne.
In the photos below you can see the transformation from just before the procedure to a week later. The first two photos show the condition of the skin before the micro needling treatment. Followed by a picture of the process.
The following two photos show how the skin looks just after the treatment. You will notice that her face is flush from all the micro-punctures to the skin during the procedure. The four final pictures show how the skin looks one day after treatment, two days after treatment, and the following week (last two photos).
You can see that there is a significant improvement in the appearance of the skin a week later. Micro needling is a popular and effective skin care treatment for acne. To learn more check out our Miro Needling Service page.
Research
You May Also Be Interested In
*Results may vary from person to person. Results are not guaranteed.
DISCLAIMER: The content on this website is for informational purposes only. Read full disclaimer here.
Micro Needling For Treating Acne