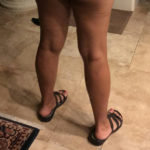 The use of radio frequency (RF) for skin tightening has expanded greatly in recent years. It can be an effective method of skin tightening.* The result of radiofrequency skin tightening are not as dramatic as you see in some cosmetic surgeries, but it has the benefit of being non-surgical, less costly, and less painful.
Many women do not need to take dramatic steps to look young and beautiful. Often small changes are all that is needed. A few treatments tighten the skin a little bit. If you want bigger results sign up for more treatments. 24 treatments are considered just as safe as 6 treatments.
Tighten Up After Liposuction
But this article is not about the benefits of RF skin tightening, it is about using it to tighten up after having liposuction. Liposuction is a common procedure to reduce fat, especially for obesity. But, regardless of whether lipo was for obesity or just excess unsightly fat, radiofrequency skin tightening can help tighten up after the liposuction procedure.
What lipo does not address is the sagging skin after significant weight loss. It is not much fun to follow up one surgery with another. More than that, after going through the expense of getting lipo, not doing something about the sagging skin seems like only doing half the job. This is where RF skin tightening can be a wonderful choice.
After a lipo treatment, you can sign up for a series of RF skin tightening treatments and over the course of a series of treatments tighten up the skin in that area. In one to three months (depending on your situation) you can tighten up problem areas you once thought were hopeless. Best of all, radiofrequency skin tightening is non-surgical. Tighten up without trauma to the body.
Radiofrequency skin tightening can be an excellent choice after liposuction. Call us for more information of to book an appointment.
You May Also Be Interested In
References
*Results may vary from person to person. Results are not guaranteed.
DISCLAIMER: The content on this website is for informational purposes only. Read full disclaimer here.
Use Radiofrequency Skin Tightening After Liposuction