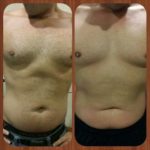 Ultrasonic cavitation is an modern and effective fat reduction system. The cavitation machine uses ultrasound to break down the fat cells in a localized area and then allows the body to use its natural detoxification system to remove the fat. Ultrasound cavitation is great for fat reduction, but it will also reduce and eliminate cellulite. Cellulite is really just fat cells below the skin that push out can cause bump to appear. Therefore, cellulite is removed in the same way as other body fat.
Let's face it, we all want to look great and feel healthy. Losing fat makes us feel better about ourselves and is healthy to boot. Reducing the amount of fat on our bodies is good for our hearts and gives us more energy. When you look good, people take notice.
Cavitation Convenient And Safe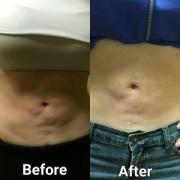 Thankfully, modern science has stepped in to give us a hand. Ultrasonic cavitation is a convenient and safe way to take remove fat that requires no change in your lifestyle. Fat cavitation is great for many people. It can help you slim down after a pregnancy, lose inches in areas that are hard to get as we get older, or remove troublesome fat in order to look, well, amazing.
Price: Ultrasonic Cavitation Fat Reduction Starts At $224 for a Set of 6 Sessions
Benefits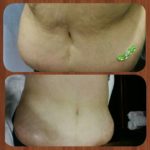 Effective Fat Reduction
    Safe Modern Fat Reduction Using Ultrasound
    Convenient Way to Sculpt The Body
    Non-invasive Cellulite Removal
    Non-surgical Fat Removal
    No lifestyle Changes Required
Uses
    Targeted Weight Loss
    Body Sculpting
    Cellulite Removal
Ultrasonic cavitation is great for attaching suborn areas of fat, such as the upper arms and the lower abdomen. Even is you are exercising and dieting, those area can be hard to get. Combining ultrasonic cavitation and radio frequency to those areas is a great way to supplement your other healty activities. Or not! It is effective used just by itself.
Ultrasonic Cavitation And Radio Frequency
Ultrasonic cavitation is often combined with radio frequency skin tightening.  With cavitation and radio frequency combined, clients can loose weight and feel the skin tighten up on the same area, sometimes losing inches on the same day.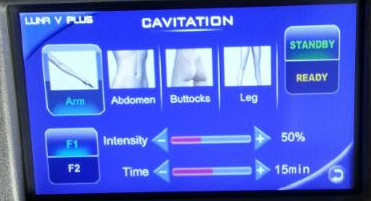 More About Ultrasonic Cavitation
Ultransonic cavitation is a method for reducing fat. It is popular because it gets excellent results and it is non-invasive. In other words, no surgery. In this section we are going to talk a little about the technology. What really is ultrasonic cavitation?
We have all heard the term ultrasound because it is the technology behind pre-natal imaging. But what really is ultrasound? Ultrasound is a high frequency sound or vibration. Ultrasound simply means to be beyond the normal hearing range of humans. This range is from 20 kHz up to several gigahertz. This wide range produces different effects depending on the frequency. As a consequence, ultrasound is used in many different applications, from medical imaging, industrial applications, navigational aids, and aesthetics (body sculpting).
To cavitate is to form bubbles or cavities. In the case of ultrasonic fat loss, the ultrasound vibrations create cavities in the tissue surrounding the fat cells. The fat cells expand, but do not have the capacity to hold up to the vibrations, so they implode. As the fat cells are broken up, the useful parts (that can be turned into energy) are used by the body and the rest is expelled.
Ultrasonic cavitation for fat reduction is a safe and painless way to sculpt the body. It is not a weight-loss therapy. It is a way of sculpting the body.
Cost: One for $60, Six for $224, and Ten for $438
Summary
Brand Name
Product Name
Ultrasonic Cavitation Fat Reduction