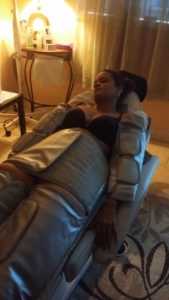 Watch TV or simply relax during 30 minute treatments. Infrared body suit wraps are great for the body. They penetrate the skin's surface to detoxify, increase circulation, and burn calories.  They reactivate cellular growth and stimulate circulation while flushing out toxins so that your body can receive proper nutrition. Infrared body suit wraps strengthen immunity to fight off disease and slow down the aging process! They are a great part of a comprehensive wellness program.
Remove Cellulite: Cellulite is a gel-like substance made up of fat, water and wastes, which are trapped in pockets below the skin. Profuse sweating is purported to clear this form of unwanted debris.
Weight Control: the improved blood flow to organs and endocrine glands speeds up their metabolic process, increasing caloric burn.
Pain Relief and Control: eliminate or reduce the pain of arthritis, muscle spasms, shoulder pain,  sprains of any area, and reduce scar tissue and adhesion. Will rapidly increase the healing process in any non acute injury.
Skin Cleansing and Rejuvenation: open clogged pores allowing for removal of dirt, oil, and makeup.  In addition there are improvements in skin problem such as acne, rashes,  burns, eczema and psoriasis,  scars, even keloids, may be gradually softened.
Benefits At A Glance: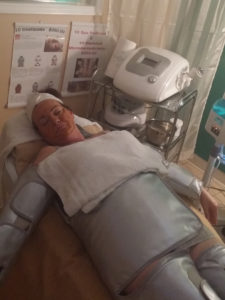 Lose weight
Reduces joint pain
Burn up to 600 calories in 30 minutes
Increase heart rate
Like running 2 or 3 miles
Sweat out toxins such as: mercury, led, tobacco.
Increase blood circulation
Price for one– $95.00
Package of 3-$285.00
Package of 5– $475.00
Summary
Brand Name
Product Name
Price
Product Availability