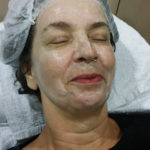 Our glycolic peel removes fine wrinkles, uneven coloration and acne, resulting in fresher and  younger looking skin. *  Great anti-aging facial peel.  When you remove the dead top layer of skin, the facial creams that you have at home will penetrate deeper into the skin and be much more effective. Glycolic peels are popular and effective.
Price: $70.00
A facial is a fundamental beauty and skin care treatment that has many benefits. It helps create a more vibrant you, and every aspect of your life becomes better.
Benefits
Remove Fine Wrinkles
Increase blood circulation
Detoxify the dermis and epidermis
Improve skin tone and color
Why Are Glycolic Peels Popular?
Glycolic peels are very popular due to the potency of glycolic acid. Glycolic acid is the strongest acid used in facial peels at day spas. They are great for treating acne and other skin problems. They are also powerful rejuvenators because they stimulate the production of collagen, the key component of youthful skin. Read more about the benefits on our glycolic peel benefit post.
Glycolic Peel Near Me
If you are looking for a glyclic peel nearby, stop by our Tampa spa. We are centrally located in Tampa and a short drive from many Tampa neighborhoods. Are you in Carrollwood, Egypt Lake-Leto, or Town 'n' Country, even Westchase, University, or North Tampa? Then you are just a few moments away. If you are looking for glycolic peel near me, call us and we'll do our best to get you in right away.
Summary
Brand Name
Product Name
Glycolic Anti-Aging Facial Peel