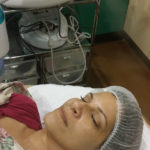 For coffee lovers, a coffee body scrub is divine. But even if you are not a coffee lover, you will love the amazing benefits of a coffee body scrub. Coffee is everywhere because people love to drink coffee. The caffeine in coffee provides a pick-up, makes us more alert, and even has medicinal properties because of its antioxidants.
The medical community seems to have its ups and downs when it comes to coffee. Sometimes it is good and sometimes it is bad. Right now the doctors are back on the 'coffee is good' side of the argument. But, if the doctors vacillate a bit, the skin care professionals are untied in their appreciation of coffee body scrubs. Coffee body scrubs are healthy and beneficial.
Benefits At a Glance
Silky Smooth Skin
Detoxifying
Vitalizing
Exfoliating
Temporary Reduction In Cellulite
Improved Blood Circulation
Coffee body scrubs don't just do one thing for the skin. They do many things for the skin. Coffee body scrubs also contribute to our general well being. The coffee in the scrub helps reduce cellulite for a time (3 to 4 hours), and your skin looks and feels amazingly soft after the scrub.
Coffee body scrubs are exfoliating. They remove the top layer of dead skin and expose a new living layer of skin. When you scrub the body, the coffee mechanically grinds the skin, removing the dead top layer. This has the same effect as a chemical exfoliant. The coffee ground gently brushes out the dead layer.
Coffee is loaded with antioxidants. Antioxidants help keep your skin looking young and provide many other benefits. Antioxidants counteract free radicals and help with cancer prevention and cell damage. A very important process to help our skin fight the damaging effects of the sun.
At Bellissimo You, our coffee body scrub contains a blend of soothing and natural oils that make you feel revitalized and relaxed.
Yes. Coffee is All Of That!
Price: Starting At $75
Summary
Brand Name
Product Name
Price
Product Availability